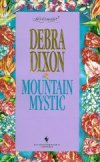 Mountain Mystic
Bantam Loveswept #706
September 1994
ISBN: 0-553-44431-X
Awards:
1995 Colorado Award of Excellence Finalist
1996 Virginia Holt Medallion Finalist
#6 and #9 Waldenbooks List
"Just for once, believe in something you can't touch..."
He'd always been able to read anyone's emotions, but Joshua Logan couldn't figure Victoria Bennett out--maybe because his longing for the beautiful midwife was so unexpected! He'd come home to the mountains seeking refuse from a world that demanded to much--why now did he have to meet a woman who awakened his need to touch and be touched?
In this moving tale of impossible gifts and true miracles, Debra Dixon explores love's power to heal the deepest sorrows. Can one brave woman whose past echoed with heartbreak hold the key to an extraordinary man's shattered soul?
---