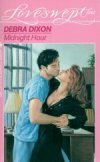 Midnight Hour
Bantam Loveswept #682
April 1994
ISBN: 0-553-44430-1
Awards:
#15 Waldenbooks List
NICK - A Take-Charge Cajun Who Made Her Think of Hot Bodies and Cool Sheets...
Her voice grabbed his soul and turned him inside out before he ever saw her--but when Dr. Nick Devereaux gazed at Midnight Mercy Malone, the town's TV horror-movie hostess, he ached to muss her gorgeous russet hair...and make love to the lady until she moaned his name! Still, he liked her even better out of her slinky costumes, an everyday enchantress who tempted him to make regular house calls.

His Voice Made Promises She Dreamed He'd Keep
His sexy accent gave her goosebumps, and the mischief in his smoldering eyes dared her to run--just so he could enjoy the chase. Mercy hoped her lusty alter ego might scare off a man she feared would choose his work over her, but Nick was born a gambler--and knew she was bluffing. His kisses made her go up in flames and ache for love that never ended. Could he teach her to trust in forever?
---