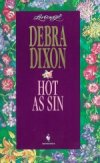 Hot as Sin
Bantam Loveswept #757
September 1995
ISBN: 0-553-44499-9
Awards:
Waldenbooks List
1995 Romantic Times Best Loveswept Romance Nominee
She needed a hero--and a man to remind her how it felt to be alive...
Emily Quinn was on the run, desperate to disappear before anyone else lost his life to save hers--and Gabe was her only hope! Tempted by her mystery, he agreed to help her evade her pursuers, but hiding a woman whose nightmares drew him into the line of fire awakened desperate yearnings in his own secret heart. Once their bodies confessed what no words could say, would it be enough to save them both?

In a novel at once potently sensual and deeply emotional Debra Dixon explores the dangerous passions that spark when a woman and a man risk everything for love. Once he'd become more than a safe place to run, could she show him that forever wouldn't be long enough?
---