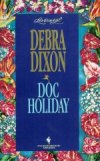 Doc Holiday
Bantam Loveswept #723
January 1995
ISBN: 0-553-44432-89
Awards:
1995 Maggie Award
1995 Romy Award (A Little Romance magazine award)
1996 VRW Holt Medallion Finalist
1996 National Readers' Choice Finalist
#4 Waldenbooks List
"Help me make some Christmas memories..."
Drew Haywood needed an enchantress to help give his son a holiday to remember--and no one did Christmas better than Taylor Bishop! She could transform a house into a home that sparkled with tinsel, and kissing her was like coming out of the cold. She'd already had enough of caring for others, but could this sexy family man convince her to break all her rules?

With poignant humor and sizzling sensuality, Debra Dixon presents the magic of Christmas and of promises made under a starry sky. Would the gift of a young boy's smile and stolen kisses beneath the mistletoe point the way to Taylor's dearest dream?
---