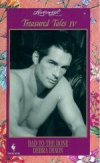 Bad to the Bone
Bantam Loveswept #774
Treasured Tales IV
February 1996
ISBN: 0-553-44500-6
Awards:
1995-95 Favorite Winter Read - Internet RRA-L listserv
1996 Nominee RRA Awards - Best Long Contemporary Series
1996 Nominee Romantic Times Best Loveswept Romance
When he was good, he was very good--but when he was bad, he was pure temptation...
He was a brand of danger she'd never risked, with the most unforgiving pair of blue eyes that ever stared into her troubled soul, but Jessica Daniels insisted she didn't have the answers to Sullivan Kincaid's questions about a missing person. The innocent act didn't fit with the way the mysterious brunette aroused Sully's suspicions--and his most forbidden desires. Would a detective who'd already been through hell brave the challenge of uncovering her secrets at the cost of his life..and his guarded heart?

Debra Dixon delivers a once-in-a-lifetime read wit this powerfully emotional, savagely sensual, yet utterly romantic novel. Even as he feared that she would never trust or believe in him, were the walls protecting her ready to come tumbling down?
---